Do You Have A Fence Or Outdoor Structure Project We Can Help You With?
Fence Installation
When busy professional homeowners, property management companies and homeowner investors who own rental properties contact us about installing a new fence, they are often calling after looking at the myriad of choices available to them.
We could list all the types of wood, the types of sealants, the options available to you and then you could figure it out yourself, or we can ask you questions that help us suggest the best solution for you. Questions like:
What is the purpose of your fence?
Does your fence need to keep anyone or anything in or out of it?
What level of maintenance are you willing to commit to? Some people like the look of wood fences, but would rather have the lower maintenance of wrought iron or vinyl.
How long do you want your fence to last? What are you willing to invest in the fence after installation to achieve that goal?
How long do you intend to live in your current home?
How important is aesthetic to you? Is the fence considered part of your outdoor living décor? If so, what is your design style?
Are you a member of a Home Owner's Association (HOA)?
The options can make your head spin, and there's really no need to go out and get a PhD in types of wood, wood maintenance, installation considerations when we can come out and work with you, walk your property and listen to the goal you would like to achieve in installing your new fence. We are fence experts so you don't have to be.
A fence can last between 10 and 20 years depending on the type of wood, the maintenance and the overall care you take of it. In a short 10 minute conversation, we can easily determine what type of fence owner you are depending on the level of commitment you have toward maintaining the fence, suggest what would work best for your unique needs and then determine an installation solution that will work for your budget, timeline and overall goals.
Our customers are busy professionals and they look for experts who offer dependable service to provide them with information so they can make an informed decision. We take pride in delivering this level of service to all our customers.
Types of Fences:
WOOD FENCES
o   Board on Board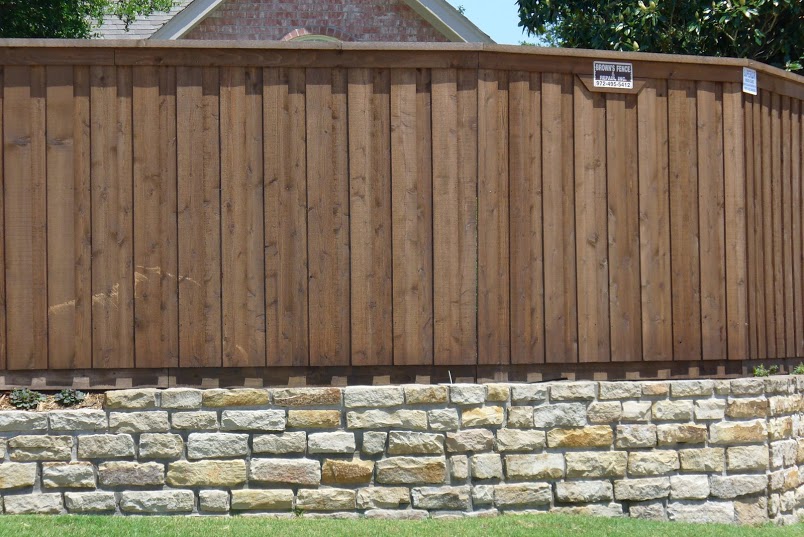 o   Side by Side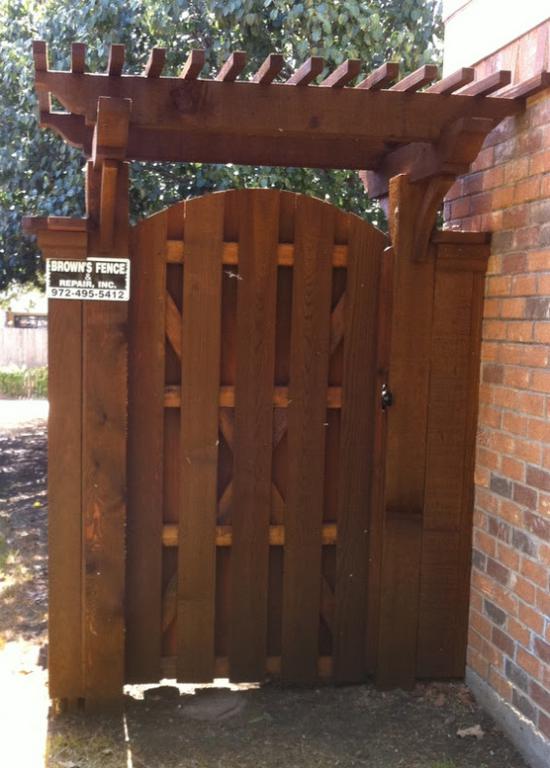 IRON FENCES
Perimeter Fences
Pool Fences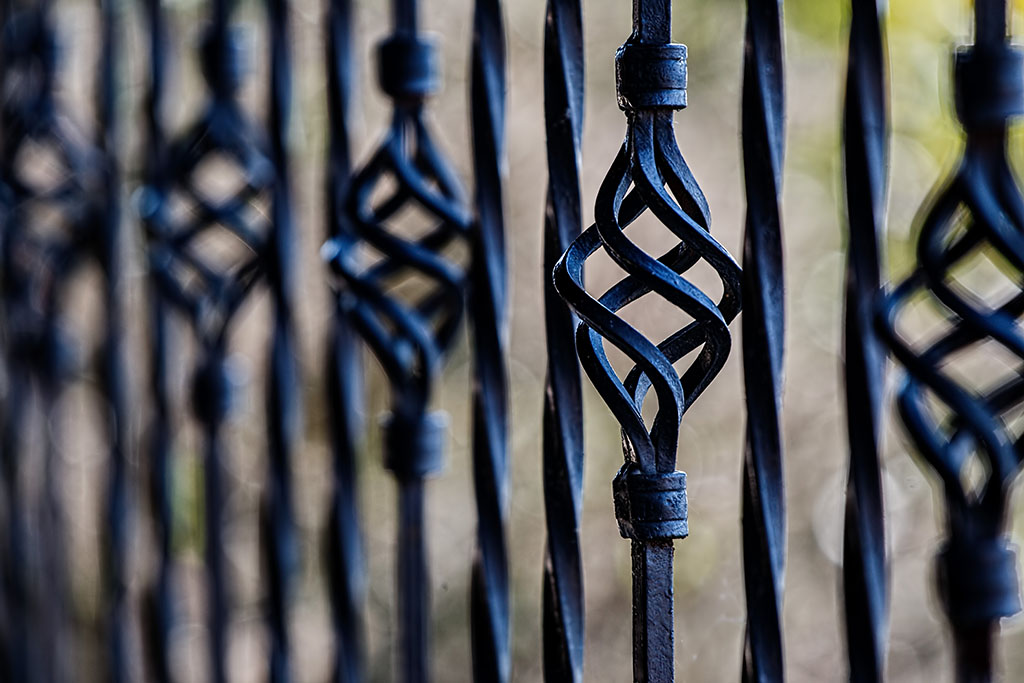 CHAIN LINK FENCES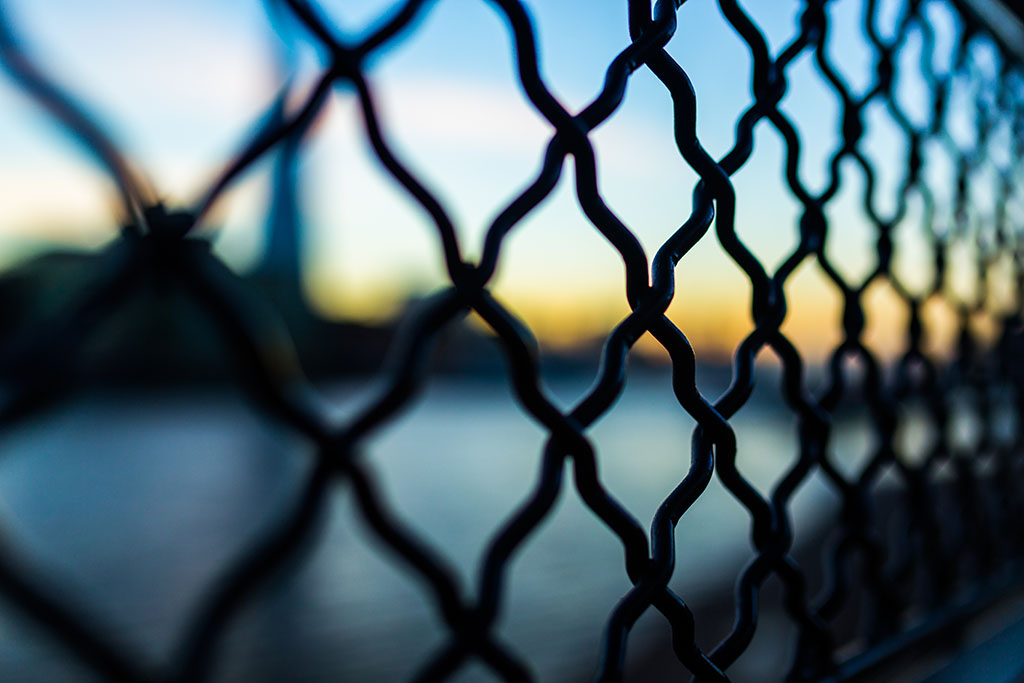 Decks, Pergolas & Arbors
Enhance your home's beauty with custom designed and quality decks, pergolas, arbors and more.
Because Texas provides sunny days and moderate temperatures even during the winter, more and more Park Cities, North Dallas and Collin County residents are creating outdoor living spaces. This allows them to considerably expand the size of their homes. With our 34 years of experience building outdoor living spaces complete with decks, pergolas, arbors and automatic gates [link to page], we can help you bring your outdoor living dreams to life.
We will meet with you to help you determine what deck and arbor product would give you the best outcome for your investment. We will walk you through every consideration so you can make an informed decision. We will ask you questions such as:
Who will use the outdoor living area?
What is your goal with your deck installation? With your arbor installation? Pergola installation?
What are you willing to do to maintain your deck? Your arbor? Pergola?
How long do you intend to stay in your current home?
Is it important for the new living area to add value to the home? Some people care about getting more return than their investment. Others want what they want and don't care about this.
Are there other upgrades you will add later to your deck, pergola or arbor? Such as an outdoor kitchen, pizza oven, fireplace, etc.
How much will you use the new outdoor space with deck, pergola or arbor each year?
Do you have a pool? Will you install a pool?
Today, there are many options available that make decks a more enjoyable experience for homeowners. From higher quality sealants that need less maintenance to new composite materials, a deck can deliver a great deal of enjoyment with less maintenance than ever. The same is true for arbors and pergolas whether they are decorative or functional.
We use premium products and build to last. Let us help you make your backyard space a place to relax and enjoy.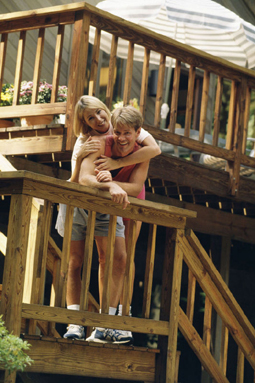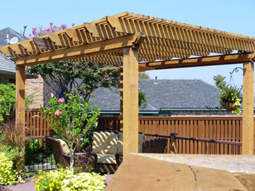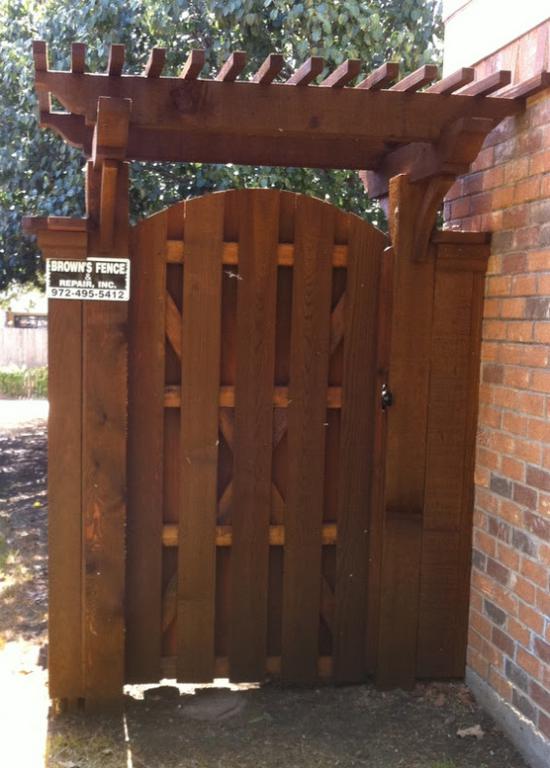 Wheelchair Ramps
We offer a full line of quality and durable ramps in all sizes to meet your scooter, wheelchair, and other access needs, including stationary (installed), compact and lightweight portable ramps, self-adjusting, indoor/outdoor, and more. Pediatric sizes also available.
Choosing a wheelchair accessible ramp requires many considerations, and we will walk you through all of these to determine the very best wheelchair ramp for you and your home. Often, when homeowners need to install a wheelchair ramp, it is at a life-changing time. We will do our best to minimize the stress you are encountering at this time in your life by helping you get the best wheelchair ramp for your specific needs.
Some questions we will ask regarding your wheelchair ramp include:
Who will use the wheelchair ramp?
What will roll up the wheelchair ramp?
Are your needs temporary or permanent? Do you require a portable wheelchair ramp?
Will the amount of weight the ramp will need to support change over time?
How important is the aesthetic to you?
Is the wheelchair ramp required for business use and under the guidelines of the ADA?
What is your budget?
How many wheelchair ramps do you require? Indoor? Outdoor?
What type of wheelchair or wheeled vehicle do you have?
Will the person using the ramp have assistance?
We'll help you determine the proper wheelchair ramp type, length, and incline that's right for you. We are the wheelchair ramp experts and will walk you through all the choices and considerations to provide the best solution for you.
Suitcase Ramps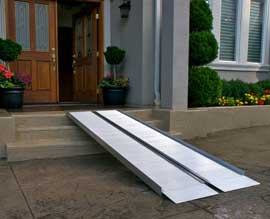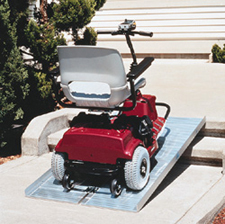 Rubber Threshold w/ Rubber Sides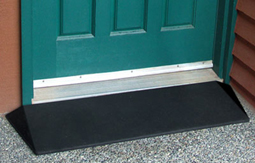 Hitch Mounted Ramps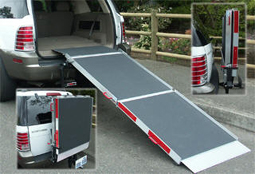 Pathway Ramps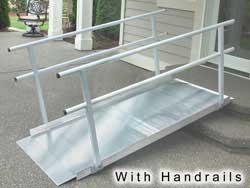 Automatic Gates
Installing an automatic gate across the back of your driveway gives you full use of your entire lot. From providing a safer area for children and pets to play to elongating the usable space for other needs, installing an automatic gate can give you more choices in outdoor living.
In addition, an automatic gate can offer more security. An automatic gate allows you to open the gate via remote from your car and then close the gate after you are safely pulled in the backyard. Automatic gates also lock into place making it nearly impossible for intruders to access the yard. Small barriers to entry can encourage would-be intruders to keep going and choose another house.
Automatic gates come in many options. Typically, gates match the fence they are attached to, but there are other options depending on your goals and needs.
Increased property value is just one of the many benefits of installing an automatic gate. Lower car and homeowner's insurance is another. When we meet with you to discuss your ideas for installing an automatic gate, we'll ask you:
What is the purpose of your automatic gate? Why are you looking to install one?
Does your automatic gate need to keep anyone or anything in or out of it?
What level of maintenance are you willing to commit to your automatic gate?
How long do you want your automatic gate to last? What are you willing to invest in the gate after installation to achieve that goal?
How long do you intend to live in your current home?
How important is aesthetic to you? Is the automatic gate considered part of your outdoor living décor? If so, what is your design style?
Are you a member of a Home Owner's Association (HOA)?
In addition to installing automatic gates, we also repair automatic gates and surrounding fences.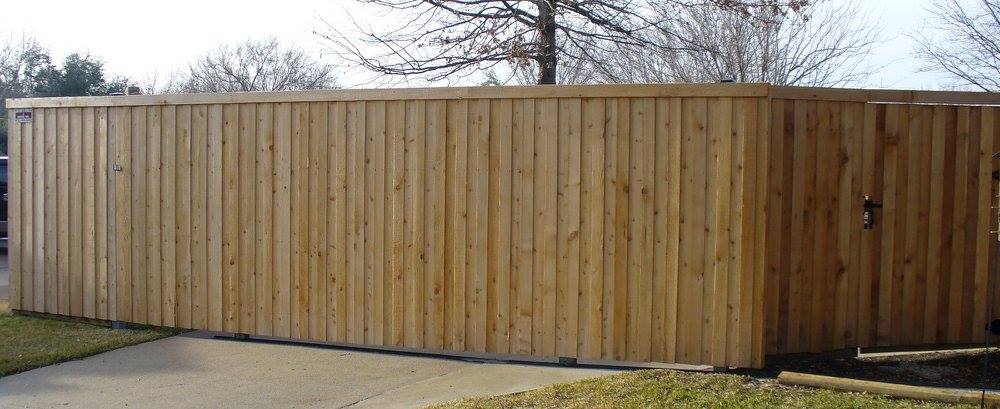 Fence Repair
Wood fences can be a sizable investment for homeowners. And, unfortunately, most homeowners are not aware that wood fences have different maintenance requirements [LINK TO FENCE STAINING} based on the type of wood chosen. To ensure a wood fence lasts for the maximum life of the materials, proper maintenance must be performed in a consistent and timely manner.
If you have not performed scheduled maintenance on your fence, it's not too late. We can take a look at your fence and create a plan to perform the maintenance, which can possibly increase the life of the fence.
If your fence is in need of repair, give us a call and we will be happy to come and inspect your fence and make suggestions.
We can repair the following types of fences and/or gates:
Wood Fences
Wrought Iron Fences
Chain Link Fences
Because we have been repairing fences and fence gates for 34 years, we have encountered most every type of repair imaginable. Typically, the rule of thumb is that if more than 30% of the fence needs to be repaired, it is best to install a new fence. We can work with you to repair and improve your fence based on your goals and unique situation. In some situations, we can offer a suggestion that will increase the longevity of your fence until you can make arrangements to install a new one.
In addition to repairing fences and fence gates, we also repair automatic gates and outdoor structures, including decks, pergolas and arbors. If you are unsure if we can help, give us a call and we can explore your options together.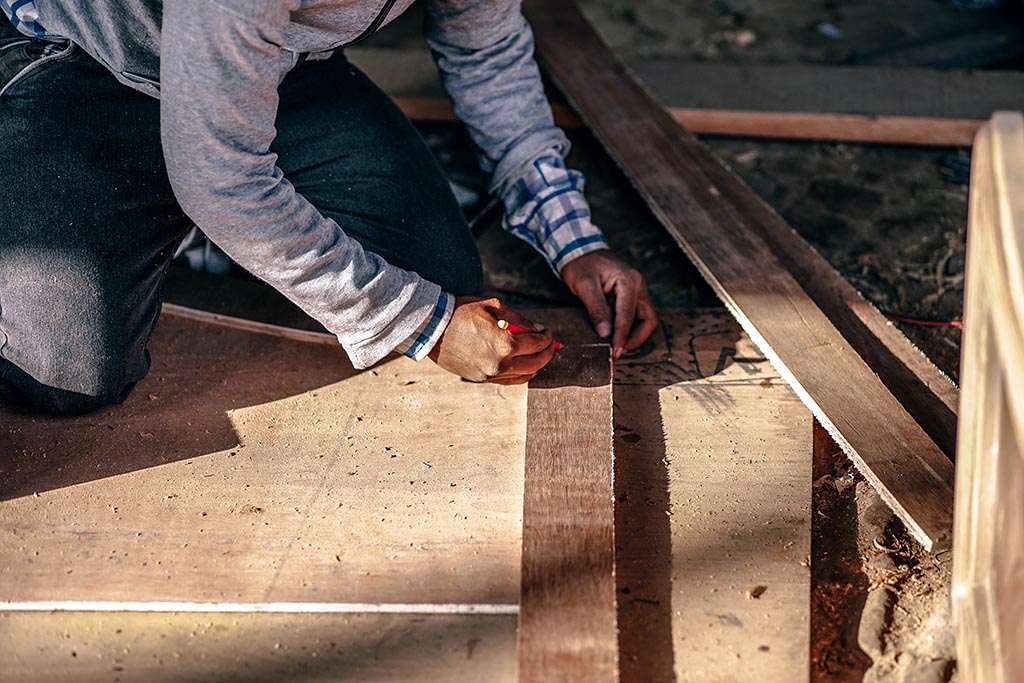 Fence Staining
When homeowners consider the considerable cost they have invested in their fences, it may be surprising that the investment continues as the years roll by. However, maintaining your wood fence by properly staining it consistently and on a timely basis will cost you pennies on the dollar compared to replacing your fence due to neglect and lack of fence maintenance.
Brown's Fence & Repair works with a trusted partner for all staining jobs. We will refer you to our trusted partner for all of your fence staining needs. Their products are applied with professional spray rigs, not pump-up sprayers. And, different than many fence staining companies, our fence staining partner does not limit the number of gallons or coats applied. Their number one goal is to saturate the wood, giving you the best protection possible. Older wood fences can be stained as well after they are cleaned with a hypochlorite solution. Once treated, older fences will have a "new wood" look.
Our partner will ensure all pools will be covered before the application process begins. Houses, landscape, rock, concrete driveways, etc., will be protected either by covering or by applying a special soap solution. Portions of the fence next to the house are brushed by hand. Steel posts and gate hardware are cleaned upon completion.
The stain used is a commercial grade product made exclusively for our partner company. This product is a paraffinic oil-based stain sealant and preservative made locally in McKinney, Texas that includes fungicides and mildewcides designed specifically for our unique North Texas climate. The stain is designed to withstand and endure the ultraviolet rays from the sun throughout the life of the product. In addition, the products will help the wood repel water and resist cupping, splitting and warping by adding the necessary oil back into the wood. All products are V.O.C. compliant.
There are many situations where homeowners will choose to stain and treat their wood fences, and some of these include:
Homeowners readying their homes for sale who want to get top dollar will treat their fences to make them look new again.
The wood fence is still in good shape and has many years left in it if properly treated.
Inclement weather has weakened or damaged the wood and treatment will further preserve the wood.
Overall home beautification or updating the look to match a newly installed arbor, pergola, pool or deck.